Outlook for 2023: The Inflationary Slog Unexpectedly Continues
Hosted by Unlimited Funds
December 2, 2022
10:00 AM - 10:30 AM ET
Keynote
Bob Elliott, Co-Founder, CEO & CIO of Unlimited, presented about the outlook for 2023 at the FLAIA Alternative Investment Forum – Art Basel Edition on December 2, 2022
Perspective on today's inflationary cycle and where we are today

The benefit of allocating to diversified alpha strategies during uncertain times

Unlimited's proprietary approach to inferring hedge fund positioning

How investors can add diversified alpha views to their portfolios
Event Recording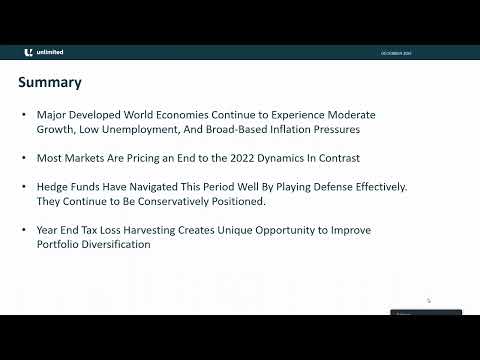 Outlook for 2023: The Inflationary Slog Unexpectedly Continues
Attachments
Unlimited Outlook 2023 - The Inflationary Slog Unexpectedly Continues

Unlimited Outlook 2023 - The Inflationary Slog Unexpectedly Continues.pdf
Speaker
Bob Elliott

Title

Co-Founder and CEO

@

Company

Unlimited Funds

Role

Speaker

Bob Elliott is the Co-Founder and CEO of Unlimited, which uses machine learning to create products that replicate the index returns of alternative investments.

Prior founding Unlimited, Bob was Deputy CIO at Bridgewater Associates where he created many strategies for the Pure Alpha fund across equities, fixed income, credit, exchange rates, and commodities. In his role on the Investment Committee he was holistically responsible for the Pure Alpha foreign exchange portfolio from investment strategy to trade execution. Before that he built and led Ray Dalio's personal investment research team for nearly a decade. He's the author of hundreds of Bridgewater's widely read Daily Observations and directly counseled some of the world's foremost policymakers and institutional investors on economic and investing issues.

Bob has also served as an advisor and executive at several startups including CircleUp, an investment company focused on early-stage consumer brands. There he revamped the investment strategy for the company's $150mln venture funds leveraging big data approaches to improve decision making. He was also the co-founder of GiveWell, a startup charity evaluator which now directs more than $500mln in annual contributions.

Bob holds a BA in History and Science from Harvard.
About
Unlimited Funds
Unlimited Brings The Indexing Revolution to Alternative Investments - The company's vision is to bring low-cost indexing to the 2&20 world using machine learning technology to build 2&20 index replications issued as ETFs.