Global EV Charging Solutions
Hosted by Electrum
September 14, 2022
1:00 PM - 2:00 PM ET
Webcast
During the Presentation the presenters will take the audience from a macro perspective to a micro perspective, including Electrum's inception, through to its current being, and project into the future high-lighting strategy for growth and opportunity:
Provide a brief history of the past 7 years, including an industry assessment.

Discuss Electrum's Network versions V1, and soon to be released V2.

Open source; Agnostic to chargers.

Sales / Pipeline.

Carbon Offsets.

Go-Public strategy; pre-RTO raises: Series B (Parts I & II), Part II is the current raise with FLAIA.

Intelligent Use/Management of Electricity as the way of the future = Opportunities.

Q & A.
Event Recording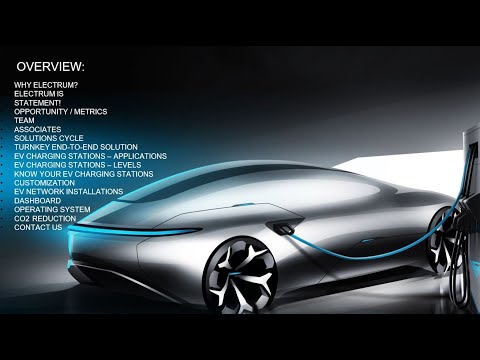 ELECTRUM - EV CHARGING NETWORKS
Attachments
ECS - Teaser Green Sheet

ECS - Teaser Green Sheet.pdf

ECS-FLAIA-Deck

ECS-FLAIA-Deck.pdf
Speakers
Dan Trudel

Title

Founder & CEO

@

Company

Electrum

Role

Speaker

Dan was hired by Leviton in 2008, a large US based electrical device's manufacturer, to formulate and lead an initial EV charging program for commercial and residential sectors (including branding and launching into the channels). It was suggested the program would show modest results over six months, then perhaps even dissipate. But as a motor-car enthusiast with a keen sense of mechanization and an accomplished electrician he wasn't so sure of that.

As it turned out, Dan's instincts proved to be correct - he spent the ensuing six years at Leviton fixated on the EV charging space. Dan developed a unique perspective of the market and foresaw that specialized 'managed services' would be required to manage this technology and its evolution. The infrastructure component presented a strategic opportunity, alongside the software which controls it, to maintain a reliable level of service post-installation/quality control.

EV charging is changing the way the world thinks about consuming power and Dan's vision is about the evolution of EV charging solutions, and how to better manage energy, as more and more EV's plug-in.

In 2015 Dan founded Electrum with the mission to contribute to becoming a carbon neutral planet by providing 'solutions' that close the gap among: EV charging, grid management, user experience and cost-recovery/profitability objectives. Electrum has since experienced rapid growth as it continues its innovative solutions deployment.

Frank Salvati, CFO

Title

CDir | CMC | MBA | CFE | CPA | CA | BBM

@

Company

Electrum

Role

Speaker

Frank Salvati has 40 years of business experience, in private and public market enterprises in varied industries, such as: electrification (EV), heavy industry (mining), agriculture (R&D), media (communications & data processes), and education; including, practicing in a professional capacity for 10 years.

Frank has held various positions over the years, most notably: CFO of KGIC (TSX-V: "LOY"); CFO of Silver Eagle Mines Inc. (TSX: "SEG"); CFO and Director of TVN Niagara Inc.; CFO of Ontario Hydro & Energy and Communications (a subsidiary of Hydro One Inc.); a Pearson International Airport Dispute Resolution Team Member; a Skydome Restructuring Team Member; and CFO of Mirage Ontario Inc. (an affiliate of Mirage Resorts, Incorporated).

Previously, in public accounting practice, Frank specialized in income taxation, forensic accounting/auditing, in addition to real estate consulting. He was elected to Ryerson University's Board of Governors in 2008 (through 2013) and was a member of the Risk Management & Quality Control Committee of Northwestern General Hospital. His accreditations include: a CGMA, CMC, CDir, MBA (summa cum laude), CFE, CPA (CA&US), and BBM (Dean's List), and honor societies Beta Gamma Sigma and Kappa Gamma Pi.
About
Electrum
Electrum, is a one-of-a-kind electric vehicle ("EV") charging solutions company, presenting a pre-public opportunity to participate in a high growth reverse-take-over ("RTO") target company; it is contracted by a Definitive Agreement to reverse into a listed, compliant, and trading shell. Electrum is lead by a pioneer in the electric charging solutions industry, who has teamed-up with a highly experienced management team, each member with a track record of success.
Founded in May of 2015, Electrum is situated in one of the global capitals for EV charging adoption and continues to ride the wave of rapid expansion in the EV space, while focused on solutions. The company has over 5,000 implementations to date. Electrum is building an Internet of Energy ("IoE") Network, which integrates Electric Vehicle Charging Infrastructure, Sub-Metering, and Hardware Management Generation-To-User, providing end-to-end electrical infrastructure to Corporations, Governments, Utilities, Developers, OEM Manufacturers, and Residential Users. This forms the basis of its unique intellectual property ("IP") and positions Electrum for the rapid global expansion of its network solutions.
Electrum enjoys a blue-chip clientele and partnership network which include Tesla, Porsche, Siemens, Nemetz, ABB, and Phi-Hong, to name a few; as well, hospitals, municipalities, hotel resorts and MURB's.
FLAIA
Let's grow our businesses together
© FLAIA 2023